My expertise spans four areas that reinforce each other. While many are devoted to one path, I selected four over the course of my life. The caution about following multiple paths is that conflicting instructions and conflicting world-views can leave you confused and unable to practice thoroughly. The benefit of this is that these conflicts can open new insights when you find how they are both true. For example, I was raised to meditate with my eyes closed, but when I went to my first Zen center, they said practice with eyes open. After about a year I attained the same stillness either way and realized the eyes don't matter.
PHYSICIST, Ph.D. 1994 +20yrs research, 13 with Prof. Riley Newman
PSYCHIC, ordained minister 2003, 24yrs with Rev. Gene Larr
YOGI, 200-RYT 2011, 28yrs ashtanga, 16 with Diana Christinson
BUDDHIST, ordained bodhicari 1995, 30yrs with Shibuya Sensei
I'm so very grateful for the time I was able to spend with my mentors Gene and Sensei who crossed over in 2006 and 2022.
I see a loose parallel between my areas of expertise and the four traditional yogas: jnana (science), karma (life and death), bhakti (devotion), and raja (meditation). But a simpler view is that of a "sensitive scientist" expressed in the science fiction of E.E.Doc Smith as a PSIONTIST which I've used for my website name. In daily life, my spouse Cindy and I live with our dog Anders in Southern California and love traveling and Nature.
Here's an interview I did recently on World of Wellness.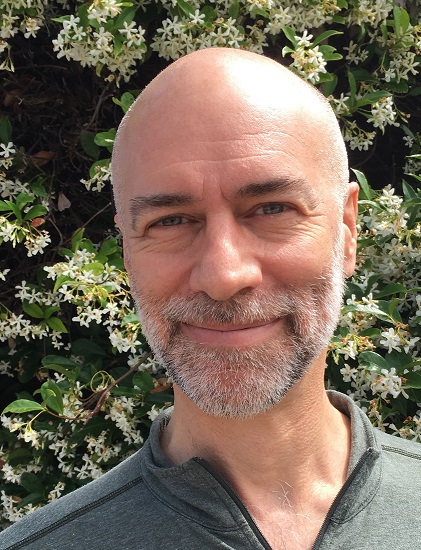 OTHER OPTIONS and PRIVATE SESSIONS:
I'm lucky enough to have a day job that pays well. I can therefore lead weekly meditation, retreats, etc. without charging for profit. I'm not trying to start a following either. This is just me sharing what I love.
I've been teaching and leading meditation for 30 years now at UCLA, UCSD, UCI, Chapel, and PAYS. I created a dozen weekend retreats for 15 persons, and have started to invite people to join me on my personal meditation retreats. I gave Sunday and class lectures (BLS, ALS, and special events) at Chapel for 15 years. I've presented half-day workshops on meditation, Buddhism, healing and other topics. Also, I've taught yoga, physics, and given gravity research talks in the UK, Brazil, and China. If you'd like me to create something like these for you, drop me a note describing what you have in mind.
If you have a private matter that you'd like to discuss with me casually or in confidence as a minister, I'm generally available by email or we can schedule a private consultation session in person or zoom.